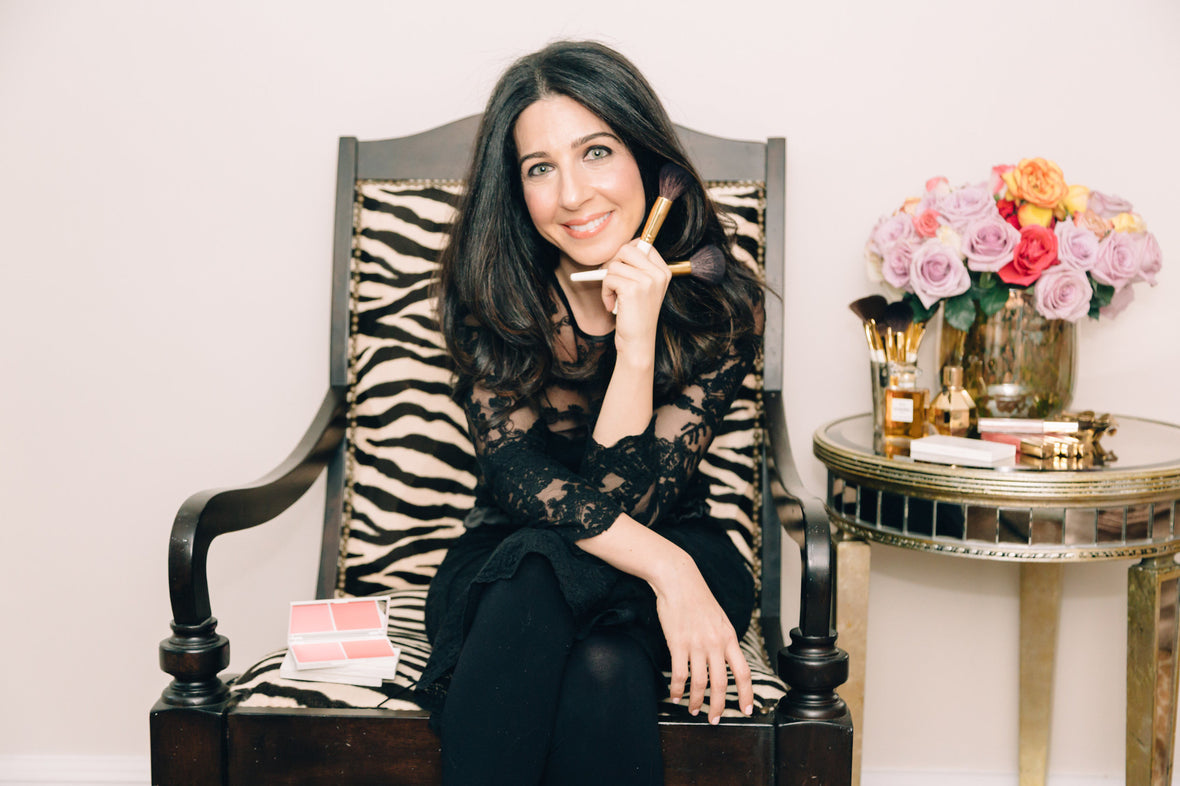 Back in 1994, I was a college freshman who had voluntarily moved from warm, sunny California to attend cold, snowy Syracuse University. Becoming a theater major, having the opportunity to explore greek life, and experience the thrill of an outstanding college sports team was the ultimate dream. So Syracuse was it!
What I didn't realize, however, was that it would be nearly impossible to travel off campus regularly because of the atrocious weather. So to keep busy while all cooped up, I broke out my make-up collection and started playing make-up artist with my friends and dorm-mates.
At the time, the only way to purchase cosmetics was to visit the make-up counters at the mall, where Estee Lauder, Lancome, and Clinique not only decorated glass cases with their foundations, eyeshadows, and lipsticks, but were practically my only options. MAC hadn't yet been acquired by Lauder (so nobody outside of Canada had really ever heard of them) and you could forget about Sephora.com, as anything digital felt more like "The Jetsons" than real life! My seemingly cool 18 year old self was always itching to experiment with the next best thing, not those "older lady" type brands. (Sincere apologies to my industry friends!)
The summer following my freshman year, I got this crazy idea to start a cosmetics company. A college student starting a beauty brand may sound pretty bold, but I did it. You see, at the time, I wanted to be an actress and while I was working with an agent and auditioning regularly, I figured I might as well have a business I could fall back on if the whole acting thing didn't work out.
In that instant, Dramatic Designs was born. I worked with a chemist, an accountant, and a lawyer over summer break and came back to school in the fall of '95 with shoe boxes full of products. I quickly became well-known as "the make-up lady" on campus. My sorority sisters were my first and best customers (I made sure to give them 20% off, a.k.a. "The AEPhi Discount"), and I hand delivered tons of orders to dorm rooms and sorority houses daily.
Before I knew it, I had friends selling my products for me, and suddenly Dramatic Designs was being sold on college campuses across the country!
After graduating, I moved to New York City to keep pursuing my dream of becoming an actress. Following my first audition, I stopped in Bergdorf Goodman to peruse the make-up department and coincidentally bumped into the infamous Bobbi Brown; make-up artist and founder of Bobbi Brown Professional Cosmetics.
We struck up a conversation and she wound up hiring me to work at her company as a product developer. It was at that point I knew that my destiny had been disguised and that my path was really designed for a career in cosmetics. I spent years working for corporate beauty brands; I even shifted gears and worked as a make-up artist doing make-up for celebrities, runway shows, and top fashion magazines; always perfecting my knowledge of cosmetics.
When I was finally ready to break out on my own and reconnect with my vision of creating a cosmetics line, I decided to design a small, timeless collection of makeup that perfectly enhances a woman's already there beauty.
I launched JHL Beauty Inc. in 2014, and soon shared VINTAGE by Jessica Liebeskind with the world; my extraordinary collection of color cosmetics.
What happened next completely shocked me.
I started receiving Facebook messages and emails from sorority sisters around the country, expressing their excitement and pride in my latest venture. I was so incredibly touched that I decided to create a nationwide philanthropic initiative called PrettyU! that gives back through the support of sisterhood. After all, it was in college that my passion for make-up became my profession!
PrettyU! is the first members-only make-up program to support the Panhellenic community and their philanthropies. It was designed to inspire young women to live their dreams and to realize that anything is possible with the support of their sisters and friends.
Here are the details:
College women between the ages of 18-25 can join for a one time only membership fee of $25

20% of their membership fee ($5.00) goes back to Sharsheret, AEPhi's philanthropy dedicated to supporting women of all backgrounds facing breast and ovarian cancer

Upon joining, they're sent a FREE VINTAGE Pink Lily Lip Crayon and receive 25% OFF  all future VINTAGE Cosmetics items until their 25th birthday

For sorority women who aren't AEPhi, 10% of their membership fee goes to Sharsheret and 10% goes to their sorority's philanthropy.

Once a member turns 25, she has the option of joining our Alumni Membership, where 20% of her full-priced purchases will give-back. (10% to her sorority's National Foundation/10% to their National Philanthropy)
If you're a sorority sister who loves makeup and giving back, I'd love for you to join us! Learn more about the PrettyU! program here. 
xo Jess
3 Comments