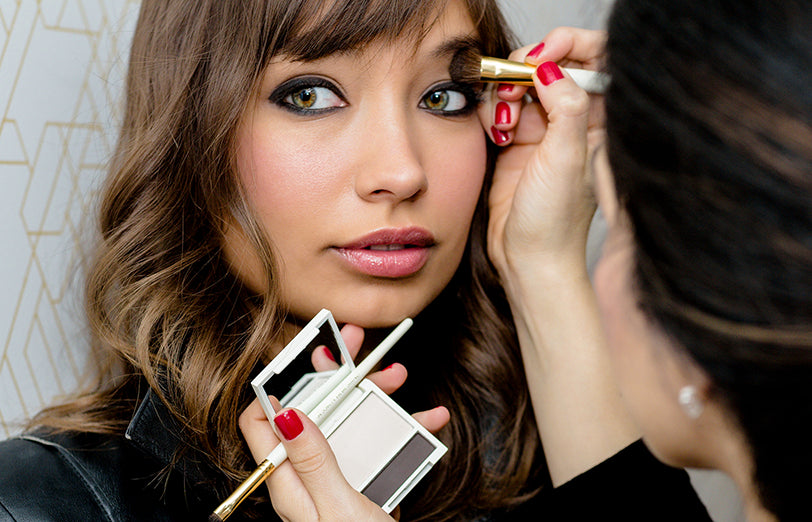 What if I told you that looking alert and bright-eyed every morning was possible without a jolt of caffeine?

There is one genius VINTAGE favorite that works wonders for tired, sleepy eyes: the Brighten & Define Eyeshadow Palette. I like to call it "the bra and underwear of your beauty routine" because it's an everyday essential that you should never leave home without!
Each palette features two easy-to-use shadows in one:
A light, brightening all-over base color
A dark, eye-defining powder liner
Both are incredibly versatile and easy to wear. The brightening powder can be worn from lash to brow to brighten the eyes, or as a base to your favorite eyeshadow. The powder liner can be used wet or dry to define the upper and lower lash line, or the create a dramatic smokey eye. (Naturally, we recommend using our Brightening Eyeshadow Brush and our Defining Eyeliner Brush to get the very best look.)
To ensure the palettes match your skin tone, we created two shade options. Lace/Caviar is for fair to light skin (think: Anne Hathaway or Nicole Kidman) and Vanilla/Espresso is for medium or tan skin (think: Jennifer Aniston or Jennifer Lopez).
This is my go-to eyeshadow! It truly does brighten and define the eye and is perfect for all occasions. I highly recommend it! -- Dana B.
Make it your go-to eye brightener every morning.
xoxo
Jessica
2 Comments