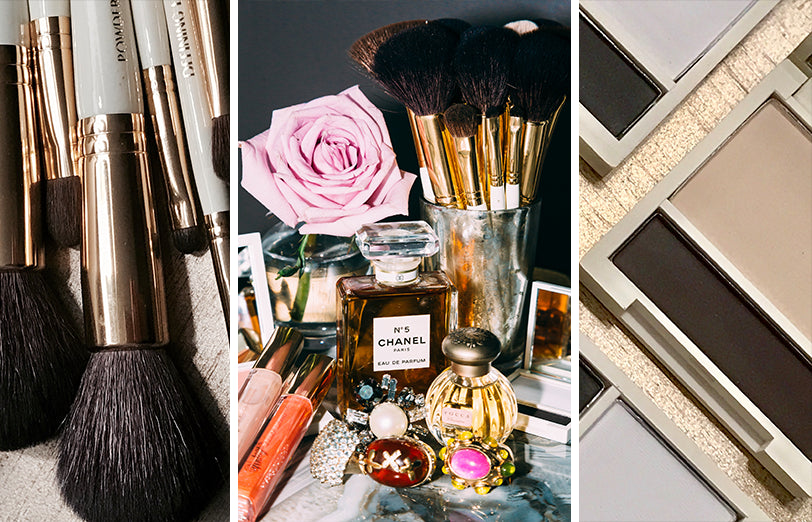 For us ladies, getting ready is a sacred experience. Picking out the perfect outfit. Applying a favorite lipstick. And watching the whole look come together. It's fun and special, and feels even more so when we have a gorgeous, feminine space to work our magic.
When I was a little girl, I loved watching my mom get ready. She always sat perched on her pink tiled vanity massaging in moisturizer and spritzing her favorite perfume. For many years, I did the same, sitting perched up on the bathroom counter as I applied my make-up and blew over my hair.

As I got older, however, I realized that I wanted to craft my own "getting ready ritual;" one that was a true reflection of me and my favorite things. So I started designing a space in my apartment that felt cozy, special, and stylish.
I can't tell you how good it feels to get ready in the morning or for a night out in a beautifully decorated environment. I'm sure you're with me on this one.

That's why I'm giving you my favorite tips for creating a vanity that feels like you. This glorious space should feel good, smell good, and look good — all in your style and aesthetic. And here are three elements to keep in mind when curating a vanity of your own.

FLOWERS
In my opinion, no vanity can begin to feel pretty or complete without flowers. Whether it's a single bloom or a full bouquet, they add just the right amount of color and beauty. Best of all, they smell delicious! I suggest enjoying your favorite flower or experimenting with different varieties each week to mix it up.

FRAGRANCE
Sitting in a space that smells like heaven will not only lift your mood, but it's something you'll look forward to enveloping yourself in over and over again. Things like body lotion, perfume, scented candles, even hand soap are all great ways to bring delicious, intoxicating scents into your space. Note: only choose scents that make you feel beautiful.

ACCESSORIES
Making your space pretty comes down to how you display everything
from your makeup to your skin care amenities. I love using one tray and a variety of mercury glass cups to not only showcase my favorite items, but to also keep them organized. It's fun to style your vanity with an edited mix of products and essentials; I'll
even add a fun cocktail ring or two for extra color!

MAKEUP
Your vanity would be nothing without makeup, and VINTAGE provides a practical collection of products that you'll want to use everyday. Whether you're wearing a Papaya Sparkling Lipgloss or our Brighten & Define Eyeshadow Palette, it's always best to keep them accessible in your display area. I love popping my lipglosses and brushes in mercury glass cups (pictured here).

Feeling inspired to create a special getting ready space of your own? Or do you have any tips for dressing up a vanity space? I'd love to hear all about it in the comments below.
1 Comment